Massage Therapy is recognized as one of the fastest growing parts of the health care industry and now many insurance companies cover massage treatments. Therapeutic massage is becoming the preferred choice for enhancing and promoting your body's own restorative healing power. Our staff is trained in a variety of massage techniques.
---
Neuromuscular Therapy
Re-education of movements by the manipulation of soft tissue to balance the central nervous system, improve range of motion, reduce pain and decrease muscle spasm.
---
Swedish Massage
Therapeutic massage and exercise for muscles and joints with your therapist using arms, forearms, elbows and hands to ease the pain away.
---
Deep Tissue
Massage using heavier pressure, targeting muscle tension and knots for that "hurts so good" feeling.

---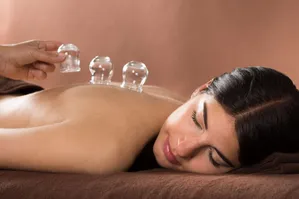 Cupping
A method of acupuncture treatment that applies suction and creates a vacuum, by applying glass, ceramic, metal, brass or bamboo cups, stimulating the flow of blood. Cupping can be applied in combination with herbal medicine or traditional needling. This treatment is used in the relief of symptoms of indigestion, hypertension, chronic cough, painful menstruation, boils, arthritis, tendonitis, low back pain, sprains and other back injuries.

---
Reflexology
Massage to the hands or feet, accessing specific points to improve health throughout the body.
---
Pre-natal Massage
Massage to increase comfort, reduce muscle cramps and stress as the body prepares for childbirth.
---
Carle Chiropractic Clinic
MM# 13214